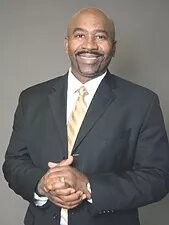 Pastor Tyrone King is an anointed man of God. He is a dynamic speaker and is known for his passion for preaching and teaching the word of God. He delivers a power packed, life changing sermon each week.
Born in Aliceville, Alabama, Pastor King is the son of the late Pastor Walter B. King and Ora King. He grew up watching his dad live what he preached and was taught at an early age to do the same.
Pastor King served as the assistant pastor and the minister of Urban Ministry at Peace Baptist Church where he was licensed and ordained under the leadership of Pastor Tyrone E. Barnette. He serves on the Board of Trustees for the New Work Foundation for Church Planting. [And] has also served as the chaplain for the Fellowship of Christian Athletes sports camps and moderator for 96 churches in the Stone Mountain Baptist Association.
In 2011, God placed upon Pastor King's heart to start Higher Level Worship Baptist Church. Pastor King believes that ministry should be centered on reaching people for Christ. This belief is reflected in the vision of Higher Level which is to make disciples for the kingdom of God by reaching all people. The ministry is focused on fulfilling the vision through preaching and teaching the Good News of Jesus Christ, evangelism, prayer, community outreach, and life groups.
Pastor King is committed to being a church in the community for the community. The food pantry and clothing closet were established early in the ministry. Currently the food pantry gives over 25,000 pounds of food per year. A mobile food pantry will be launched later this year to meet the growing needs of the community. Over 800 pieces of new and gently used clothing are given to children and families each year, and to combat hunger in the community, children and teens receive free nutritional meals throughout the summer.
Pastor King believes in empowering and disciplining our youth. He partnered with LeaderTreks, a student leadership ministry, which brought over 100 youth from across the country to be on missions in the Stone Mountain area and serve alongside Higher Level's youth in reaching others for Christ.
He is married to his beautiful wife, Tammy King, and has two children, Armani and Tymarcus.
Pastor King is extremely humbled and honored to be chosen by Jesus Christ.
"However, I consider my life worth nothing to me, if only I may finish the race and complete the task the Lord Jesus has given me - the task of testifying to the gospel of God's grace."
(Acts 20:24, NIV)